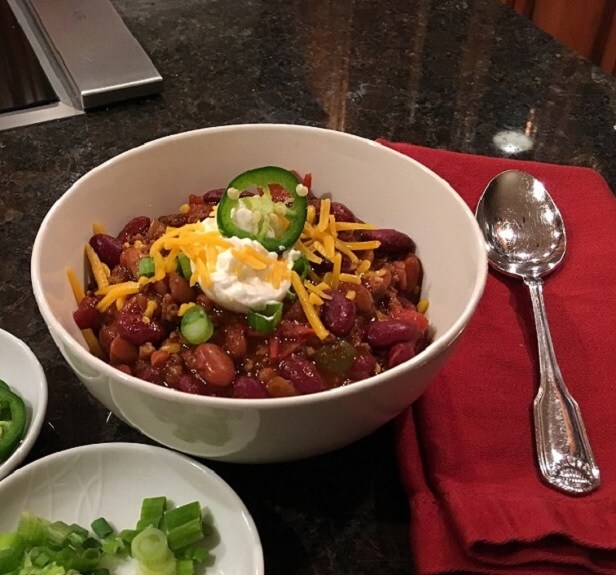 If hunting season has stocked your freezer with ground venison, try this hearty and delicious Venison Chili for a perfect winter warm-up. Don't have venison? It's also great with ground beef or ground turkey.
Prep Time: 15 minutes
Cook Time: 1 hour 15 minutes
Total Time: 1 hour 30 minutes
Serves 8
Ingredients
2 Tbsp. olive oil
2 onions, chopped
1 green bell pepper, seeded and chopped
¼ cup chili powder
2 Tbsp. cumin
1 tsp. ground coriander
1 tsp. dried oregano
2 tsp. dried thyme
2 tsp. chipotle chili powder or ¼ tsp. cayenne
Salt and freshly ground black pepper
8 cloves garlic, minced
2 lbs. ground venison (ground beef or ground turkey)
2 (15.5 oz.) cans kidney beans, drained and rinsed
2 (10 oz.) cans fire-roasted diced tomatoes with green chilies, undrained
1 (28 oz.) can tomato puree
Shredded cheese, sour cream, scallions for topping (optional)
Instructions
Heat oil in a large stock pot or Dutch oven over medium-high heat until shimmering. Add onions, bell pepper, chili powder, cumin, coriander, oregano, thyme, cayenne pepper, 1/2 teaspoon salt, and 1/4 teaspoon pepper. Cook until vegetables have softened, 7 to 10 minutes.
Stir in garlic until fragrant, about 30 seconds. Add venison and cook, breaking up the clumps with a spoon, until the venison is no longer pink, about 5 minutes.
Stir in kidney beans, tomatoes, and tomato puree. Bring to a simmer, cover, and cook for 30 minutes.
Remove lid and continue to simmer for 30 minutes longer. Season to taste with salt and pepper.
Serve with preferred toppings including cheese, sour cream, and scallions.