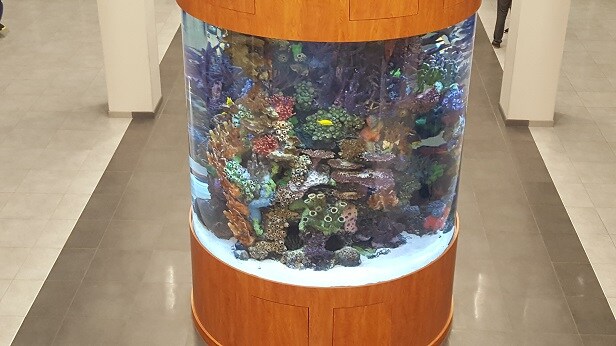 The Vision
Rockie had a vision. As the largest dealership facility of its kind in Tennessee, he wanted a unique feature to serve as a focal point in the showroom to match the grand scale of the new state-of-the-art Rockie Williams Premier location in Mt. Juliet. Although he had never owned an aquarium himself, Rockie dreamed of having a custom-designed fish tank that employees and dealership guests could enjoy.
Titan Aquatic Exhibits
and
Aquarium Artisans
out of Cincinnati, Ohio worked together to bring Rockie's dream to life.
Titan Aquatic Exhibits custom designed and built the 13-foot cylindrical tank for maximum impact and enjoyment for the dealership's guests. The one-of-a-kind feature is the largest free-standing salt water aquarium in the Southeast, outside of an aquarium exhibit or museum.
The Logistical and Engineering Challenge
Aquarium Artisans handled the installation. They rigged the tank in place, which was an engineering challenge, given that it is a 3,000-gallon, 1-inch-thick acrylic cylinder that easily weighs over 5,000 lbs. --
without water!
Cradled with straps, the aquarium was pulled off the semi, brought into the building through the unfinished windows in the front of the building, and hoisted on top of a custom steel stand. Remote-controlled hydraulic jacks were used to lower the cylinder onto the stand. Once completed the stand and top cap piece were wrapped in a beautiful wood veneer.
The Dedicated Life Support System
Aquarium Artisans also installed a second 370-gallon tank in an upstairs office and meeting room using a telescopic boom lift to the second floor.
A network of underground pipes connects a dedicated 12' x 12' aquarium life support room that contains the complex filtration system to the dealership's two aquariums. Once the interior walls and supporting mechanical infrastructure for the dealership were in place, the Aquarium Artisan team installed the 500-gallon filtration system. Located 80 feet away, the filtration system is comprised of an open loop system including a large custom sump, a commercial protein skimmer, an ozone generator with a custom controller and a custom 12" x 48" bio-pellet reactor.
Multiple pumps are used to move the filtered water back to the aquarium. The system also includes a sand filter, a 12k watt heater, 400-watt UV sterilizer, a 3-horsepower split system water chiller and digital flow meters to adjust water flow. Fresh water comes from a RODI system and the entire system is enabled with remote monitoring.
Final Testing and Introduction of Fish
The fire hydrant in front of the building was used to conduct final setup and a lead leak and flow test. The tank was then prepared for the introduction of the first 379 fish using a state-of-the-art instant cycle process.