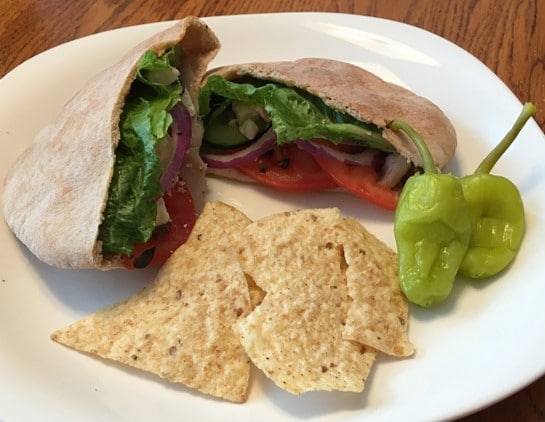 Diabetic Friendly!
(Serves 1)
This easy, delicious recipe is a go-to when Nichole's daughter, who is Type 1 diabetic, is having several days of high blood sugars. It is very filling, but also friendly to her health needs. When her daughter was first diagnosed with Juvenile Diabetes at the age of 9, Nichole was always looking for recipes that were tasty, but also good for her daughter. This recipe became one of her daughter's favorites, and still is today!
1 Pita bread cut in half
2 Slices of Turkey deli meat (can use chicken or any other deli mean)
2 Slices of tomato
1-2 Leaves of lettuce (Romaine is the prettiest)
1-2 Red onion rings (optional)
1-2 Cucumber slices
1 tsp. Hummus (Nichole's favorite is roasted red pepper)
Diced black olives
1 Tbsp. Feta cheese crumbles
Salt and pepper, to taste
Drizzle olive oil, to taste
Open the pita bread to form a pocket. Spread the hummus on the inside of the pocket. Place the turkey in first, then layer the lettuce, tomato, cucumber, and onion inside. Sprinkle on the feta cheese and diced black olives. Season with salt and pepper to taste. Drizzle with olive oil.