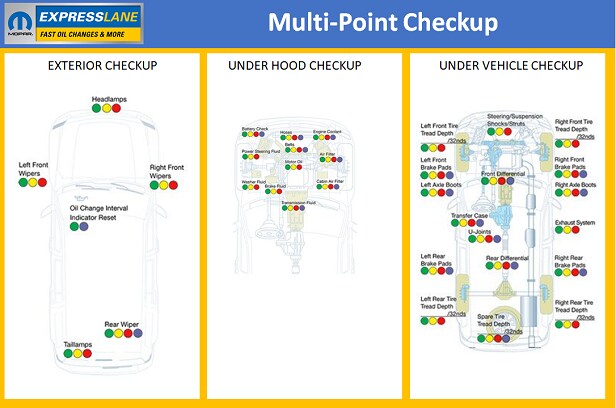 Your safety is important to us. That's why we provide a complimentary top-to-bottom inspection with every Express Lane oil change. Our goal is to get you in and out quickly and safely back on the road again with service that's not just done fast; it's done right.
Our Express Lane is known for superior, quality service that's also quick and convenient. That's why we go the extra step to thoroughly inspect your vehicle during routine oil changes for any vehicle efficiency, performance and safety issues. By conducting these inspections while your vehicle is already in our shop, we can often uncover issues you may not even know you have, and save you a trip back to our shop for additional repairs. Whether you drive a Chrysler, Dodge, Jeep, Ram, or any other model, you'll get the same attentive service.
We're happy to schedule a time that's convenient for you, but an appointment is never required; just drop in when it's convenient for you. We're open Monday through Friday 7:00 am – 5:00 pm and Saturdays 8:00 am – 3:00 pm.
The multi-point checkup is only a part of the attention to detail you'll experience with our comprehensive Mopar Express Lane Auto Service. No off-brand, inferior-quality replacement parts for us. We use only Penzoil® motor oil products and original Mopar parts on all Chrysler, Dodge, Jeep and Ram vehicles and authentic Magneti Marelli® parts for all other major vehicle makes and models to ensure quality factory fit and function.
If you haven't experienced our Express Lane oil change and complimentary multi-point checkup, here's what you can expect:
Exterior Checkup
Headlamps
Wiper blades
Reset oil change interval indicator
Check Tail lights
Rear wiper
Under Hood Checkup
Check Battery
Inspect Hoses
Engine Coolant level check
Check Fluids - power steering, brake, washer, transmission
Check Belts
Inspect Air Filter
Motor Oil
Cabin Air Filter
Under Vehicle Checkup
Tire tread wear and air pressure
Check steering, suspension, shocks, struts
Brake pads
Axle boots
Front and rear differentials
Transfer case
Exhaust system
Spare tire tread depth
Next time you need an oil change, we hope you will consider the extra care and attention you will receive in the Express Lane at Rockie Williams' Premier. We're conveniently located just off I-40 at 600 Pleasant Grove Road, just behind Wal-Mart in Mt. Juliet.