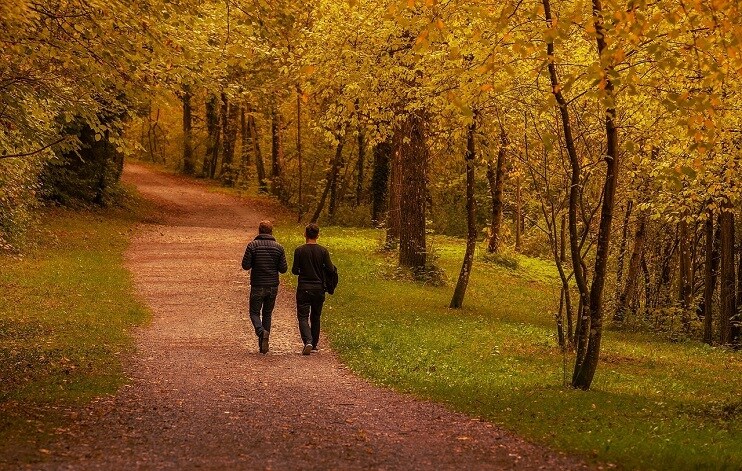 Fall is a great time to hit the trails and enjoy the natural beauty and rolling hills of the Middle Tennessee area. The weather is cooler, the leaves are beginning to turn and the wildlife is in abundance. And, luckily, there are plenty of great hiking trails just minutes from Nashville. Here are four of our favorites.
Radnor Lake
Distance from Nashville: 8 miles
This 1,368-acre urban oasis has something for just about everyone. The park is day-use only and the more than six miles of trails are strictly used for hiking, photography and wildlife observation. The Otter Creek Road trail, closed to traffic through the park, is reserved for cyclists, joggers and dog walkers. The Lake Trail, which is also accessible to people with all-terrain wheelchairs, provides a picturesque journey around the lake and wooded hills. The park is perfect for nature enthusiasts to observe owls, deer, herons and other waterfowl, as well as reptiles and mammals, such as mink, beavers and otters. The diverse ecological landscape is also home to a wide variety of wildflowers, mosses, fungi, ferns and other plants, trees and shrubs. The surroundings tell you that you are out of the city, but the perfect view of the Batman Building reminds you that you are not too far from home.
The Warner Parks
Distance from Nashville: 9 miles
Just west of Nashville, Percy and Edwin Warner Parks, collectively known as "The Warner Parks," are one of the largest municipally administered parks in Tennessee, spanning more than 3,100 acres including, picnic shelters, dog park, hiking trails, overlooks, mountain bike trails, horse trails and more. The trail system includes nine color-coded trails ranging in length from 150 yards to 4.5 miles and from easy to moderate. The Nature Center hosts a number of educational programs for nature lovers of all ages. Mossy Ridge Trail is a moderately strenuous 4.5-mile loop through the natural forests of the park that is quite popular with trail runners. The parks feature a diverse ecological system that supports a wide variety of trees, hidden springs, creeks, and wetland areas. Just be sure to watch your step because it's a long way back to the parking lot if you twist an ankle.
Narrows of the Harpeth Hiking Trails
Distance from Downtown Nashville: 26 miles
Located in the Harpeth River State Park, the Narrows of the Harpeth offers three trails leading from a central trailhead near the park entrance. A popular destination for canoeing and kayaking in warmer months, hikers and nature lovers will enjoy the solitude and tranquility of several miles of easy to difficult out and back trails through a variety of landscape. For the true thrill seekers, there is a super-steep, half-mile trail that offers a breathtaking bird's eye view of the river gorge and surrounding countryside. It's not for the faint of heart, but the views from the bluff make this one of the most scenic trails near Nashville. History buffs will want to take the half-mile trail along the backside of the limestone bluff to the site of Montgomery Bell's Pattison Forge, a water diversion tunnel that was dug using slave labor through thick Tennessee limestone. A small waterfall is all that remains of the iron forge operation. Another trail offers a less strenuous, but no less picturesque trek along the cliff.
Long Hunter State Park
Distance from Nashville: 24 miles
With more than 25 miles of trails ranging from easy strolls along the shores of J. Percy Priest Lake to longer, more challenging terrains for the adventurous set, Long Hunter State Park offers a scenic mix of woods and water. A special map app lets you track your location on your phone using GPS, even if you're too deep in the woods to get a cell signal. Twelve trails range from one- to six-mile stretches and provide opportunities to stop and enjoy butterflies, active wildlife, and beautiful views from the bluffs. The paved Lake Trail is perfect for strollers and wheelchairs, and dogs are allowed on all but three trails.
With these diverse options just minutes from home, you can enjoy a bit of the wilderness whenever the hiking urge strikes. We'd love to hear from you. Tell us about your favorite trail experiences @premierdodge on Facebook and @rockiewilliamspremier on Instagram or stop by and see us at Rockie Williams Premier (600 Pleasant Grove Road in Mt. Juliet) and check out our great selection of Jeeps.